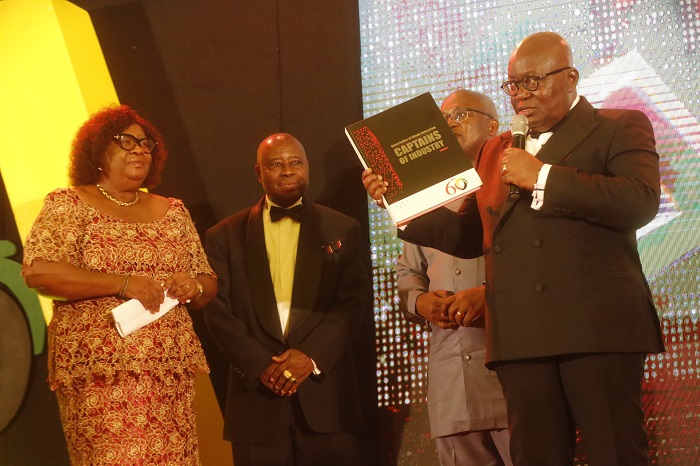 President Akufo-Addo launching AGI's Captains of Industry book
President Akufo-Addo says high public debt, high fiscal deficit, high interest rates, rapidly depreciating currency and erratic power supply will not be a feature of his administration.
According to President Akufo-Addo, his administration was determined to continue down the road of fiscal discipline that has seen a marked improvement and strengthened the country's macro-economy in the last two years.
"Indeed, we will, in this meeting of Parliament, legislate a fiscal rule that will outlaw any attempt by government to generate a fiscal deficit in excess of 5% in any given year," he said.
The President continued, "I intend also to establish shortly a Presidential Fiscal Advisory Council, composed of reputable economists which will monitor the performance of fiscal management policy, and advice the President on appropriate measures to be taken to ensure fiscal discipline."
President Akufo-Addo disclosed this at the 7th Association of Ghana Industries (AGI) Ghana Industry Awards over the weekend.
Addressing the gathering made up of business leaders and captains of industry, the President said that even though Ghana has seen a significant improvement in the latest World Bank Index of Doing Business, there is still a lot of work to be done to meet the goal of Ghana becoming the most business friendly environment in Africa, and indeed the world.
"The AGI and Government should work hand-in-hand to improve the business environment and achieve this goal.  I would also urge our domestic businesses and industries to aspire towards meeting quality standards for their products and services in order to be able to integrate easily into global markets," he said.
President Akufo-Addo also called on all private sector players to contribute their quota to the transformation of the Ghanaian economy.
"Creating wealth and prosperity for the majority of our people is a shared responsibility. My government is a listening one, and I encourage stakeholders to utilise the public-private dialogue platforms soon to be institutionalised by government to address issues of mutual concern in achieving the economic and industrial transformation of our country," he added.
---
---
Most Watched Videos
Most Read News